f you click icon of this program, program starts. To check if program is properly running, see below picture.

[Main Window]



Following is a brief explanation about above picture.
1. This is basic tool button reading or saving captured images.
2. Editing button for cut and paste selected image in editing mode.
3. Perform following functions in the order of buttons for capture activity.
-Selected control capture: capture a particular window or a specific area in window
-Selected window capture: capture a particular window selectively
-Selected area capture: drag mouse on the screen, select the square region and capture
-Determined area capture: select the sized of square region in advance before capturing
-Full screen capture: capture every region shown in screen
-Full screen capture (Dual monitor): when using more than 2 monitors
-Continuous capture of selected area: select the region and number of capture, then perform continuous capture.
-Window icon capture: selectively capture icons in the window
-Finally captured area capture: capture finally captured area
4. This provides effects for full screen or images of selected region.
5. This is function button for editing tool for captured images.
6. This is a status bar showing information of captured image and change level for editing.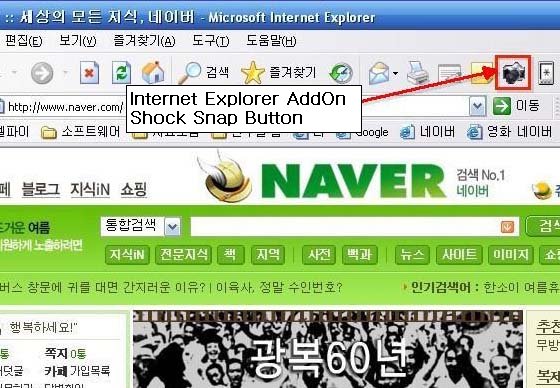 [Shock Snap button on the IE]
| | |
| --- | --- |
| | Default Shortcut |

Ctrl+Shift+F1 : Selected Control
Ctrl+Shift+F2 : Selected Window
Ctrl+Shift+F3 : Selected Region
Ctrl+Shift+F4 : Selected Rectangle
Ctrl+Shift+F5 : Full Screen
Ctrl+Shift+F6 : Full Screen(Dual Monitor)
Ctrl+Shift+F7 : Continuity
Ctrl+Shift+F8 : Window Icon
Ctrl+Shift+F9 : Repeat Last Capture
Ctrl+Shift+F11 : Show Shock Snap
Ctrl+Shift+F12 : Hide Shock Snap